The Foster Factory by David Learmont. - Isle of Man
Thursday, 28 December 2017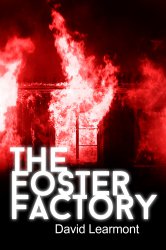 Item details
City:
Isle of Man, UK Offshore Dependencies
Contacts

Jane Robertson
Item description
"A witty, acerbic, sad and hilarious tale of how an elderly couple became foster carers in their mid-sixties. Stylish writing with a twist!" (Sunday Telegraph)
"The Foster Factory is a remarkable achievement and David Learmont made me laugh on almost every page with his entertaining turns of phrase." (The Sunday Times)
The book deals with the experiences of David and his wife Marsha once they retired and started working again as Foster Carers. David claims that if he had written it as a novel, the characters in it would have been considered 'too outlandish to be credible.'
How the elderly couple dealt with egomaniacs, kleptomaniacs, tractor-maniacs, and children who stabbed him and burned down their house are just some of the tales that David recounts with "what is left" of his sense of humour and his "diminishing stock" of faith in mankind. Read it and weep. Or laugh. Possibly both.
"David and Marsha are nothing short of incredible and I hope they are enjoying their second retirement in Andorra." (The Daily Mail)
Check it out on Amazon Books Ltd.